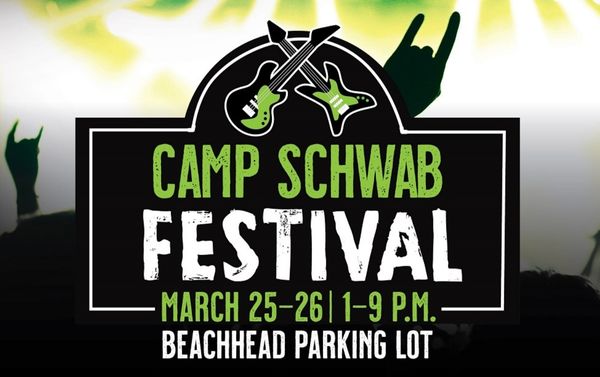 Date
Saturday, March 25, 2023 - Sunday, March 26, 2023
Time
Address
BeachHead parking lot
Camp Schwab, Okinawa
Contact
The best time to enjoy the gorgeous, subtropical weather on Okinawa is in the springtime. And if you're looking for an opportunity to bask in the sweet, springtime breeze while having a blast, travel to Okinawa's northernmost camp and stop by the Camp Schwab Festival for two full days of festivities on Saturday, March 25 and Sunday, March 26 from 1 to 9 p.m. both days.
Open to SOFA ID card holders, Japanese and American citizens island-wide, the festivities will be held at the BeachHead parking lot. Rock out to FREE live music and entertainment while the kids marvel at MCCS' Fun Land carnival rides. There will be a live performance by country music group Runaway June on Saturday, March 25 at 7 p.m. and again on Sunday, March 26 at 5:30 p.m. Closing out the Camp Schwab Festival is X Ambassadors, an American pop rock band, performing at 7 p.m. Sunday, March 26.
Once your appetite kicks in, chow down on your favorites such as succulent smoked pork shoulder and BBQ brisket from Hickory House, authentic street tacos from La Cocina and signature hot dogs and sausages from Chef Shack. Alternatively, you can take your taste buds on a journey with Miami-inspired cuisine from 305 Latin Bistro or grab your go-to order from Bulldogs Burgers or Sumo Burrito from inside BeachHead. Adults can wash it all down with thirst-quenching refreshments from Kanpai Lounge.
Local vendors such as KC Filipino BBQ, Para Parlor, Zo, Good Bowl, Island Boys Kitchen, Hideout Okinawa, Hero's Game and Maruhide Game will be offering food, drinks and games.
NEWLY ADDED: Capture the perfect selfie while checking out the static display of military tactical vehicles and helicopters. Join the fun inside the bowling centers for a chance to win FREE games with the Red Pin and Sledgehammer Bowling Challenges. And don't forget to check out the sweet rides during the Car Show on Sunday.
Admission to the Camp Schwab Festival is FREE; however, no one will be admitted with pets, outside alcohol, glass bottles, coolers or backpacks. As always, MCCS encourages everyone to drink responsibly, do not drink and drive. Daiko and taxi services will be available. SOFA ID card holders may enter through Gate 1. Non-SOFA status attendees may enter through Gate 5 (photo ID required). A courtesy shuttle bus service will be provided for guests entering through Gate 5.