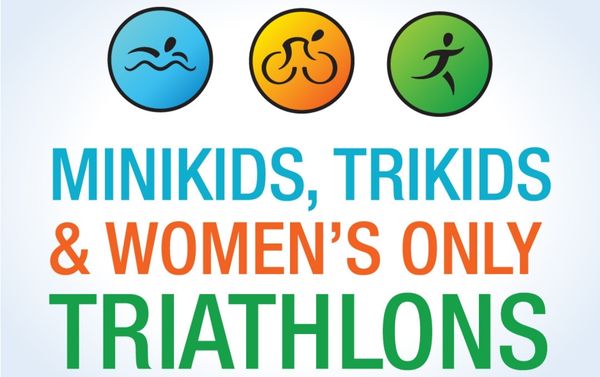 Swim, bike and run your way to the finish line at the annual Minikids, Trikids and Women's Only Triathlon! Join us for this fun-focused, non-competitive event that takes place at Foster Aquatic Center.
If sea conditions are rough, the race will be converted to a duathlon (run-bike-run). Results will be published, but there will be no awards for placing. If you have any questions, please do not hesitate to contact us at aquatics@okinawa.usmc-mccs.org.
---
TriKids Race Age
TriKids Race: Age 7 years old through 14 years old Triathletes
Women's Only Race: 13 years old or older
MiniKids Race is for age 9 years old and younger triathletes
Age will be determined as of 01/01/2023
Registration
Registration will be online only (click button below to register) from May 5 through May 31.
Swim Safety Rule for TriKids Races
The swim test is on the honor system. Swimmers that have not passed the 2023 MCCS swim test must do so prior to the race, or they must wear a coast guard approved life jacket for the swim portion of the race. Life jackets on hand if needed.
Swim tests can be taken at any MCCS pool.
Non-swimmers may still take part in the triathlon. They will wait at the swim finish, and then will be allowed to start running from the swim start to transition 10-seconds after the last swimmer has completed the swim portion of the race.
Race Timeline:
0600-0615 Legion Gate Entry for local national triathletes and families
0600-0630 Race Check-in – please check in prior to racking bicycle in the transition area.
0640-0650 TriKids Race Brief in Transition Area
0650-0700 TriKids Swim Brief on Pool Deck
0700 Women's Only Race Start
0701 TriKids Race Start
0745 TriKids Race Estimated End
0755-0805 MiniKids Race Brief in Transition Area
0805-0815 MiniKids Race Brief on Pool Deck
0815 MiniKids Race Starts
0830 MiniKids Race Estimated End
0845 Awards – location TBA
Race Distances
TriKids and Women's Only

Swim: 200 meters
Bike: ~5 kilometers
Run: ~1 kilometer

MiniKids Race

Swim: 25 meters
Bike: ~250 meters
Run: ~100 meters
General Information
Open to any type of bike in a safe operating condition (working brakes, no pegs, tight bolts, etc.).
A road bike is a bike with smooth tires; a mountain bike is one with knobby tires.
Helmet, shoes, and covered top and bottom of the body are required.
Body marking only, no paper race numbers.
For TriKids: No parental assistance allowed once the race begins. Cheering is highly encouraged.
For MiniKids: Parents may assist, but not to propel a triathlete past another triathlete.
Swim is a mass start.
Certificate presentation will be after the race concludes.
Bike racks will be numbered, and a spot will be assigned to each triathletes.
Parking in any lot away from the pool parking lot/transition area.
---
In consideration for receiving permission to participate in this event, I shall indemnify, waive, release, and forever discharge the U.S. Government, the U.S. Marine Corps, the Marine Corps Community Service (MCCS), and all sponsors, medical support and any other individuals or entities connected in any way with this event from any and all claims for damages, death, personal injury or property damage and/or litigation costs/attorneys' fees, arising from or contributing to, in whole or in part, by any act, omission, fault or mistake of the above-named persons or entities and their employees or agents, resulting from my participation in this event. I verify that I have full knowledge of the rigors of this event and the risks involved in participation, including but not limited to trip and fall, loss of orientation, exhaustion, dehydration, hyponatremia, fatigue, over-exertion, sun or heat stroke, illness, cold injuries, hypothermia, drowning (if water event), and any other injuries related to running and/or endurance events. I assert that I am physically fit and have sufficiently trained to complete this event. I realize medical support for this event will consist primarily of first-aid type assistance, perhaps by volunteer laypersons. This waiver and release shall be binding on my heirs and assigns and shall run in favor of the above-named persons or entities and any individuals in any way connected with this event. By registering for this event, you understand and expressly acknowledge that an inherent risk of exposure to COVID-19 exists in any public place where people are present. In attending the event, you and any guests voluntarily assume all risks related to exposure to COVID-19, and waive, release, and discharge MCCS or any of their affiliates, directors, officers, employees, agents, contractors, or volunteers from any and all liability under any theory, whether in negligence or otherwise, for any illness or injury. I further agree to have my participation in this event videotaped and photographed, and I hereby waive and release all rights to said videotapes and photographs to MCCS for its exclusive use in publicity for and/or illustration of athletic events. I agree to abide by all decisions of MCCS and its designated officials. I have read and understand the contents of this Liability & Publicity Release.