MONTHLY WORKSHOPS
SACO Certification Course

BH-SACC offers monthly workshops to our Okinawa SOFA community. All workshops are open to the adult public and focus on topics to increase awareness and education regarding drug and alcohol issues that may impact our community.

The upcoming schedule is as follows:

5 August 2022 – Prime for Life 4.5 (1300-1630)
2 September 2022 – Prime for Life 4.5 (1300-1630)
7 October 2022 – Prime for Life 4.5 (1300-1630)
24 Oct 2022 -What Should Parents Know about Substance Misuse (1300-1430)
26 Oct 2022 –Why not CBD? (1100-1300)
4 November 2022 – Prime for Life 4.5 (1300-1630)
2 December 2022 – Prime for Life 4.5 (1300-1630)

Due to limited seating sign-up is required in advance for all workshops.

Marine Corps Order 5300.17A required that all unit Substance Abuse Control Officers (SACOs) must attend a certification course within 45 days of appointment.

Our upcoming course schedule is as follows:

2-5 August 2022 (0800-1600)
1-4 November 2022 (0800-1600)
31 January – 3 February 2023 (0800-1600)
2-5 May 2023 (0800-1600)
1-4 August 2023 (0800-1600)

Must sign-up in advance.
Appointment letter is required to sign-up.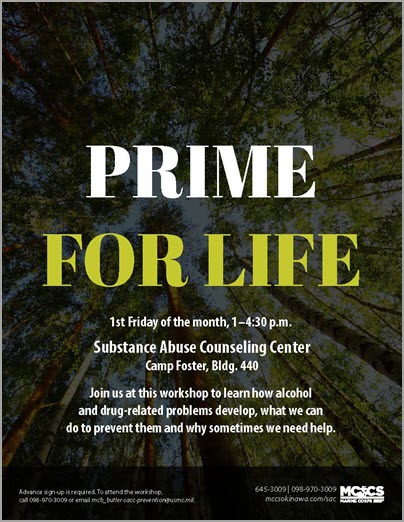 Substance Abuse Counseling Services
Counseling is available for individuals who have been assessed as having substance misuse issues and who could benefit from intervention or counseling services. The level of care and length of services are determined by the individual's needs. Our services address major lifestyle, attitudinal, and behavioral issues that have the potential to undermine the goal of wellness and recovery or inhibit the individuals' ability to cope with major life tasks without the non-medical use of alcohol, tobacco, or other drugs, problem gambling or with other addictive behaviors. Our counseling staff includes licensed clinical social workers, licensed mental health counselors and all are certified addiction professionals. We provide intake and assessments, screenings for problem gambling, Level I Outpatient Services, Level II Intensive Outpatient Services and Aftercare.
Outpatient Services (OP)
Outpatient services are designed to treat the individual's level of clinical severity and function. The foundation of our Outpatient program is Prime for Life (PFL) 16 hour course. Our OP counseling services provides rigorous, structured services tailored to the client, but does not exceed nine hours per week for no fewer than six weeks. Our approach include the use of evidence-based client and group therapy, family counseling, and education.
Intensive Outpatient Services (IOP)
IOP counseling services are designed to provide increased structure, monitoring and intense services lasting between nine and twenty hours per week for at least six weeks. IOP services provides intensive counseling to clients with a substance use disorder, but who do not require medical intervention.
After Care
Designed for individuals who have completed substance abuse counseling services. Aftercare is individualized to meet the needs of the person served and can include weekly individual and group sessions to assist individuals with maintaining healthy choices and achieving the goals on their aftercare plan. Aftercare lasts between 6-12 months depending on the needs of the individual served. Clients who self-referred may discontinue services at their discretion but the command will be notified if services are discontinued prior to service plan completion.
Confidentiality
SACC abides by DOD guidelines for client confidentiality. Per Marine Corps Order, there are no repercussions for a Marine who self-refer for alcohol use, provided there have been no incidents (such as a DUI). If you are found to be using illegal drugs, abusing OTC medication or are in need of alcohol misuse treatment, you will be given the opportunity to let your command know, or SACC can talk to your command for you. If you self-refer and receive SUD counseling services, the commander must be notified. This notification consists of the minimum amount of information necessary to satisfy the purpose of the disclosure: diagnosis; a description of the planned counseling services; impact on duty or mission; prognosis; any applicable duty limitations; and implications for the safety of others.
Prevention Services
The SACC Prevention program uses evidence based prevention strategies. Our prevention program focuses on preventing the onset and development of more significant substance- related problems. Please call BH-SACC Prevention via the main office line at 645-3009/from cell phone or off base: 098-970-3009.
Adolescent Services
Prevention services available for youth and their families. Please call BH-SACC Prevention via the main office line at 645-3009 or from a cell phone or off base: 098-970-3009 to speak with our prevention staff.
Prime for Life
Prime for Life (PFL) 4.5
PFL 4.5 is an evidenced based half day, early intervention course offered by a certified prevention specialist. PFL 4.5 is a valuable tool for commanders to use with their units when there is concern about higher-risk substance misuse behaviors. PFL 4.5 is an interactive prevention class facilitated at BH-SACC or unit level to a maximum of 30 Marines and Sailors per class. The program equips and encourages attendees to be healthy and make low risk decisions regarding alcohol.
If you are concerned about your unit due to an increase in substance misuse behaviors and trends, then please contact us to schedule a class. We will come to you!
Prime for Life (PFL) 16 Hour
PFL 16.0 is an evidenced based two-day, 16-hour training course offered by our certified prevention specialists. If you have been involved in a DUI/DWI, alcohol-related incident, or have a more significant concern about a substance use, PFL will assist you in learning about the dangers and risks involved with alcohol misuse. PFL is designed to change drinking and drug use behaviors by changing beliefs, attitudes, risk perceptions, motivations and knowledge of how to reduce their risk of alcohol and drug related problems throughout their lives.
Outreach Education and Training for Commands
The drug demand reduction and prevention programs offer outreach and education tailored to meet the needs of individual commands. Commanders concerned about their Marines increased substance misuse behaviors and trends are encouraged to request for one of our prevention specialists to meet with you. Programs include Substance Abuse Control Officer (SACO) Certification Course, Urinalysis Program Coordinator's Course (UPC) and Commanding General's Inspection Program.
Contact Information
Substance Abuse Counseling (Hansen)
Contact Information
Substance Abuse Counseling (Schwab)