MCFTB reinforces and sustains a state of personal and family readiness to provide Marines and families with tools and resources needed to successfully meet the challenges of the military lifestyle and enhance mission readiness by providing preventative education that is offered across the life cycle of a Marine.
Services include:
Provide skill-building tools and readiness for individual and family development.
Designed to meet the needs of Marines, Sailors and their family members based on the stresses of daily living and the mobile military lifestyle.
The training programs focus on topics and concerns related to overall family functioning, relocation, deployment, military separation, life skills, and establishing appropriate connections within the military and civilian community.
Opportunity for Marine Corps families to use their skills and talents through volunteering.
---
Training is provided at the unit level. Workshops are provided at the unit and installation level, through a partnership with the Deployment Readiness Coordinator / Unit Readiness Coordinator and other supporting resources of the unit and installation. Standardized readiness training is provided to unit commanders, Family Readiness command teams, and Marines and their families.
Subject matter experts provide additional information related to various programs and resources available to Marines, Sailors and families.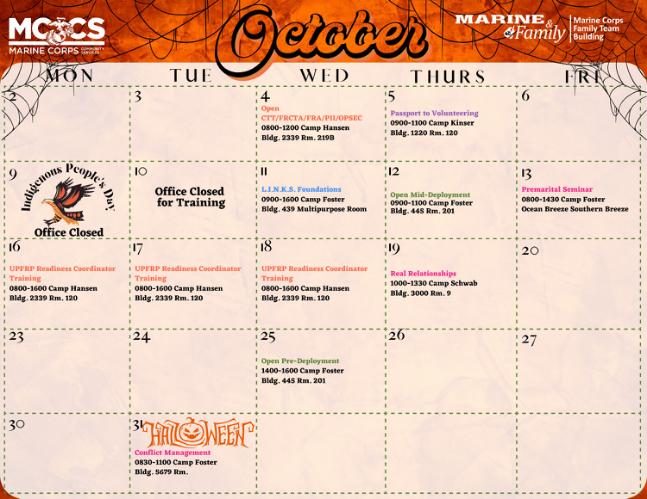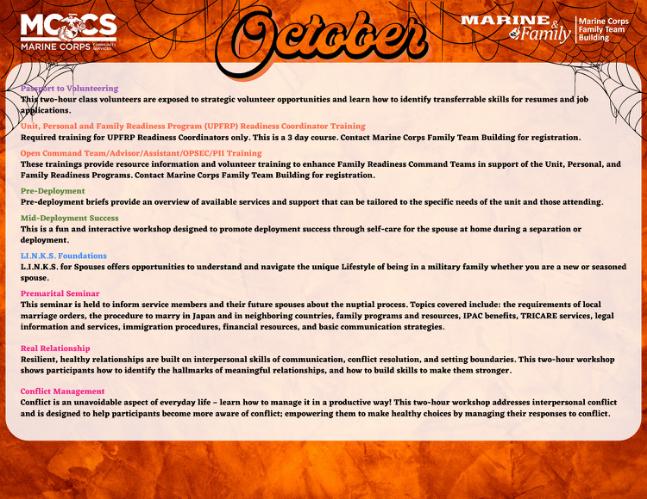 Contact Information
Marine Corps Family Team Building
OCONUS Base Phone: 81-98-970-3689
Email: mcftbokinawa@okinawa.usmc-mccs.org
Follow Marine Corps Family Team Building:
Who to Call
Lifeskills Training and Education Program Training:
(098) 970-7806
L.I.N.K.S.:
(098) 970-3696
Director:
(098) 970-3689
Administrative Specialist:
(098) 970-3689
Family Readiness Program Trainer:
(098) 970-3698
Volunteer Program Coordinator:
(098) 970-3749
Readiness & Deployment Support/Navy Support:
(098) 970-5707