---
Awase Meadows – The First Golf Course on Okinawa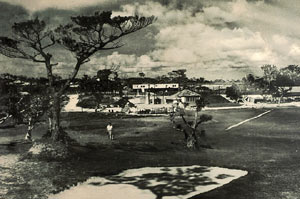 Awase Meadows Golf Course earns the distinction of being the first course ever built on the island of Okinawa with Initial construction beginning in 1946. Two years later, the U.S. Army held a grand opening for the course, which featured nine holes and manicured sand greens—no simple feat considering the amount of work needed. Not surprisingly, the course became immensely popular, and soon it was apparent that nine holes would not sustain the appetites of the growing golf community on Okinawa.

In 1953, the U.S. Army expanded the course to 18 holes, and Awase Meadows began holding regular competitions that drew military personnel of all ranks and golfers of all nationalities.

A young Marine by the name of Lee Trevino was victorious at Awase Meadow's Chamber of Commerce Open 1960. This victory was the first of many for the future Hall-of-Fame golfer, as Trevino would go on to a legendary career including multiple wins at golf majors such as the U.S. Open, British Open and PGA Championship. Some, including Trevino himself, speculate that Awase's sand greens played a hand in the improvement of his short game and putting. "We had greens covered in sand an inch or two deep," Trevino said in a Time Magazine interview.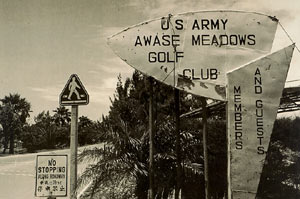 Awase Meadows finally converted to grass greens in 1960, making the course even more beautiful, modern and user-friendly for its loyal players. The course remained under Army management until 1976, when the U.S. Marine Corps assumed control of the links. Under Marine Corps leadership, the course blossomed, holding multiple large tournaments and hosting golf legends, diplomats and ambassadors.
During its heyday, Awase Meadows featured a parkland-style par-69 layout, a putting green, a clubhouse with men's and women's locker rooms, a pro shop fully stocked with golf equipment and performance apparel, a repair facility, state-of-the-art custom club-fitting program, and a popular restaurant that served one of the best burgers on the island. With its narrow, tree-lined fairways, cool ocean breezes and stunning views of both the East China Sea and the Pacific Ocean, Awase Meadows was uniquely situated and built a loyal following.
After many years of negotiations (following a 1996 decision to return the land), a conglomeration of landowners decided that the prime real estate occupied for six decades by Awase Meadows would best be developed into, upon its opening in 2015, Okinawa's largest shopping mall, the AEON Mall Okinawa Rycom, more commonly known as "Rycom Mall."
The final round of golf played at Awase Meadows Golf Course took place during the cool twilight hours in late-February 2009. After that final foursome putted out on the 18th hole, a new era of U.S. Marine Corps golf commenced with the opening of Taiyo Golf Club only a fortnight later.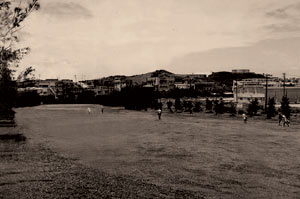 Use our Google Map Directions
Use our Google Map to get to Taiyo Golf Club. The Google Pin in the app will lead you to a closed back gate.
View video directions to Taiyo